Discover more from Energy Flux
Dispatches from the edge of the energy transition - for avid energy readers and independent thinkers
Over 3,000 subscribers
Policy miasma: Failure to crack down on methane emissions thwarts EU's 'clean hydrogen' push
The European Commission is putting hydrogen at the heart of the EU Green Deal without first driving the most potent climate-warming gas out of the fuel required to produce it.
The European Commission has done more than probably any international body to advance the issue of climate neutrality on the world stage. Its European Green Deal has set in motion an ambitious policy package intended to set the 27-member bloc on a path towards 'net zero' climate emissions by 2050.
Policy proposals from the EU's executive arm are prone to political meddling prior to implementation, often to water them down to reach political compromise. A recent example was the late-night horse-trading over the EU budget that resulted in a €40 billion fund intended to support a 'just' energy transition being gutted.
With pushback to green policies coming even from supposedly climate-conscious member states Austria, Denmark, the Netherlands and Sweden, the onus is on policymakers in Brussels to set the bar as high as reasonably possible on its energy and climate legislative agenda.
As the Commission puts the final touches to its EU methane strategy, this does not seem to be happening. The strategy, due out this month, will outline how the EU plans to reduce emissions of CH4, the highly potent climate-warming gas. A draft of the strategy recently leaked to Reuters revealed Brussels will not expand standards to cover CH4 emitted during the production and transportation of natural gas imported into the EU—merely "explore" them at some point over the next five years.
The energy sector is a major contributor of anthropogenic methane emissions, alongside agriculture and landfill waste. The lack of international standards on the detection, measurement and verification of methane leakage from oil and gas wells, pipes, valves and compressors is the single largest obstacle to tackling the problem. The EU's methane strategy presents a valuable opportunity to make progress in this area.
Instead, the Commission will merely "propose legislation next year requiring oil and gas companies to better monitor and report methane emissions, and repair leaks". This will apply only to operators within the EU, not those supplying gas from outside the bloc.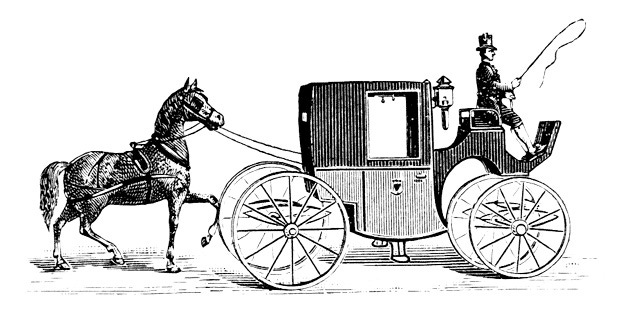 Illustration: Cart and horse. Attribution unknown.
Mercifully, only a relatively small number of methane 'super-emitters' are responsible for an outsized share of overall leaks, according to US specialist outfit Kairos Aerospace. An ambitious methane strategy should see the EU forge international partnerships with its major gas suppliers—Russia, Norway, Algeria, the UK, Qatar and the US—to prioritise identifying big leaks and delivering big emissions savings quickly.
But without strong European standards that put dirty operators at an economic disadvantage, it is hard to see an incentive for gas exporting countries to voluntarily share the up-front capital cost of leak detection and repair (LDAR). Either the EU sets the standards and shifts the burden of compliance onto emitters, or it pays them to clean up their act.
Self-regulation is highly unlikely to deliver big enough savings, even though the cost of finding and plugging methane leaks starts to pay for itself over time. A laissez-faire approach in the US has resulted in widespread under-reporting of leaked and vented volumes, hiding the urgency of the problem.
Lowering the bar
The issue of methane divides the oil and gas industry, particularly in the US onshore shale gas space—a major emitter of CH4. Deep-pocketed international oil companies (IOCs) and large independents vocally opposed the Trump administration's repeal of Obama-era methane regulations, forging an unlikely alliance with environmental NGOs.
Smaller 'mom and pop' outfits—which operate on much slimmer margins so have less to spend on LDAR—rejoiced. They saw the cost burden as putting them at a competitive disadvantage to their larger rivals. Since this year's oil price crash, scores of marginal 'stripper' wells were shuttered and many small and medium-sized producers went bankrupt.
US natural gas is now a globally traded commodity. Firm federal regulation of methane would lower emissions across the upstream, giving those that comply an edge in any end-user market that imposes strict emissions standards. Europe is a key target market for US exports of liquefied natural gas (LNG); the continent's resilient demand profile, highly developed gas networks and deep, liquid trading hubs provide a vital sink market for excess global supplies of gas, increasingly so since the worldwide glut of LNG was exacerbated by Covid-19 lockdowns that hammered energy demand.
US LNG exporters along the US Gulf Coast fully understand this, and do not want to lose access to European gas markets. Cheniere Energy, the country's first and largest LNG exporter, recently extolled the virtues of an "effective" environmental, social, and governance (ESG) strategy, in an op-ed that signs off on this note:
US LNG companies not only have the unique opportunity to shape the ESG performance of upstream natural gas players, but can also strengthen their competitive position by adopting an effective ESG strategy.
This is tacitly saying that many of the shale producers providing Cheniere with gas to liquefy and ship to Europe and Asia need to clean up their act. Cheniere is now "engaging" its gas suppliers on methane emissions management "so that a cargo of LNG from Cheniere will meet high ESG performance standards".
The LNG player's urgency to address upstream emissions is explained by the fact that there is less scope for improvement in the energy-intensive process of liquefying natural gas and shipping it to Europe (plus regasification at the other end). Gas supplied by pipeline from Russia, Norway and Algeria avoids these losses entirely; these countries together provide roughly three-quarters of all Europe's gas but are losing some market share to LNG from the US and other countries.
It is telling, therefore, that both Russia and Norway embraced the EU's decision to draw up a methane strategy. Gazprom, which holds the state monopoly on Russian gas pipeline exports, says its "measured and verified methane emissions are amongst the lowest in the gas industry: 0.02% for production, 0.29% for transmission and 0.03% for underground storage". Norwegian semi-state IOC Equinor's CH4 emissions are "below 0.3%".
These figures compare favourably to the average of 0.6% for all gas consumed in Europe, and could be an order of magnitude less than the methane footprint of LNG once liquefaction and shipping are factored in. Cheniere does not report the all-in methane intensity of its LNG at the point of end-use, so it is hard to know for sure.
Moreover, there is no comprehensive, verified source of pan-industry data on gas industry methane emissions—which is precisely why the EU needs to set tough CH4 standards with an incorruptible system of third-party verification.
Creating the systems to gather trustworthy data in the first place would be a major multilateral undertaking. The degree of uncertainty is huge: in the Permian basin fracking hotspot that stretches across Texas and New Mexico, there is a potential variance in collected data of +/- 500,000 tonnes per annum. This volume is equivalent to "the total fugitive emissions of European networks", according to European gas industry association GERG.
Legislating to replace thousands of slightly leaky valves and gauges within Europe, as the Commission reportedly intends to do, might be politically expedient to show that something is being done about the methane problem. But it would fail to set import standards that ripple up the gas chain beyond the EU's borders and ensnare the super-emitters.
The hydrogen angle
If Europe continues to import gas with a high methane emissions footprint, it will undermine one of the EU's flagship climate policies: to place hydrogen at the heart of Europe's transition to a net zero economy.
The EU's recent hydrogen strategy sees only a limited transitional role for 'blue' hydrogen derived from gas with carbon capture (CCS) while supply of 'green' H2 from renewables is scaled up. The natural gas industry sees blue hydrogen as a lifeline in a decarbonising market, and is lobbying vigorously for it to play a bigger role in the EU Green Deal.
It is entirely conceivable that reliance on gas-based hydrogen will endure for longer than anticipated. Ramping up green hydrogen derived from wind and solar power via electrolysis might take longer than hoped, leaving blue H2 as the fallback option.
The hydrogen strategy envisages the EU subsidising oil and gas companies to produce hydrogen. Doing this before they fix methane leaks and stop routinely venting and flaring the gas would represent a profound failure of policy coordination.
To avoid its hydrogen strategy making the methane problem worse, the Commission needs to crack down on gas chain emissions before integrating these molecules into a supposedly 'climate-neutral' European economy.
Showing global leadership on methane means acting with conviction in the face of powerful vested interests. The EU has already set itself the much tougher task of hitting net zero climate emissions by 2050. Taking an ineffective 'scatter-gun' approach to methane, or relying on voluntary actions from an industry with a poor track record in this area, will only make it that bit harder to achieve—and could turn a well-intended shift to hydrogen into a climate-destroying sophism.
Seb Kennedy | Energy Flux | 7th September 2020